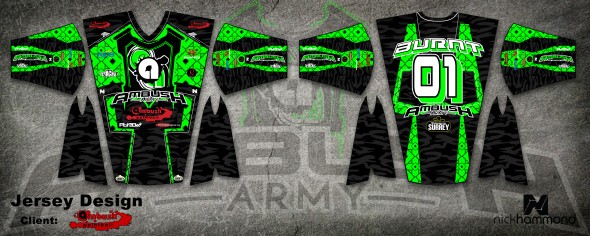 Our boys over at Ambush Paintball in B.C. Canada needed a new jersey design for their aptly named Ambush Army team. Ambush Army competes at some of the highest levels of paintball throughout Canada and the United States. After helping them out with some absolutely STUNNING laser engraving designs for their team guns we had no problem doing the same for a new jersey.
The jersey design, pictured above, is only the design for the tournament team. We also made a second version for their woodsball team. Of course we won't be posting pics of these. You'll have to stay tuned and wait for another update once the jersey's are printed to see more pics along with the team turning heads on the field.
We're glad to be back on the design prowl and are looking forward to the projects we have lined up in the future. You can check out Ambush Paintball and their team Ambush Army on their website at www.AmbushPaintball.com or even at their Facebook page.
If you would like to hire us for a jersey design, or any other design for that matter, feel free to contact us at Nick@NickHammondDesign.com or go to our Contact page so we can get started!