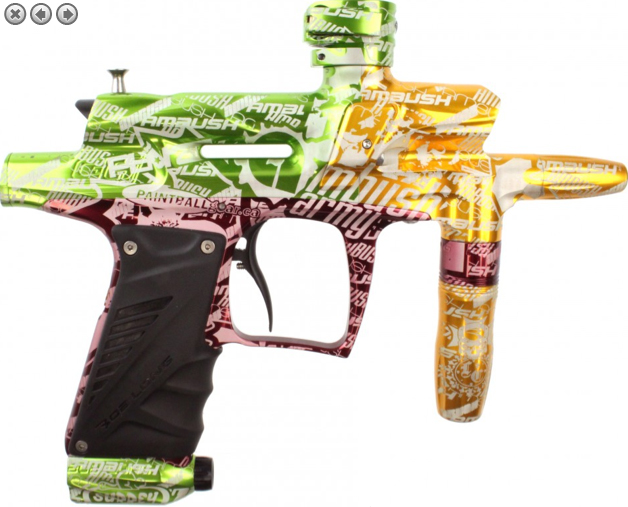 So we've been working behind the scenes on this puppy for quite sometime now and it finally got released! There were a couple posts back where we showed off the preliminary laser engraving designs we made for Ambush Paintball's new set of team paintball guns. Well here they are in all of their glory!
Ambush Army decided to go with the new Bob Long G6R paintball gun as well as an amazing annodizing job from our friends over at PaintballGear.ca in Canada. These guns will set you back around $1,000 but are well worth the price as they come standard with upgrades that will keep you at the top of your game…not to mention the absolutely AMAZING laser engraving design provided exclusively through Nick Hammond Design. Here were the comps:
We're in the process of working on Ambush Army's team jerseys for this season as well so keep an eye out for those as this team will be decked out in NHD from head to toe on and off of the paintball field! Be sure to check out their facebook page as they give away some awesome prizes all the time to loyal followers.
Buy the Ambush Army edition G6R
There's more to get excited about too as the first batch of NHD Clothing shirts/hoodies should be shipped late next week! Check em out by going to our store. If you or anyone you know would like a laser engraving design, or any other design, through Nick Hammond Design don't hesitate to drop us a line at Nick@NickHammondDesign.com or get a hold of us through any other means listed on our contact page.