Here at Nick Hammond Design/ NHD Clothing ours definitely have! Specifically our jersey designs. Not only have our designs been seen in places as far as the Philippines but our sponsored athlete Ryan Tucker knows how to rock them to the fullest extend wherever he goes. This includes back in his home state of Washington as well as in the Pro paintball ranks. That's right, Ryan is now officially among the pro ranks as he shreds with professional paintball team Portland Uprising this season in the National Professional Paintball League, or NPPL for short.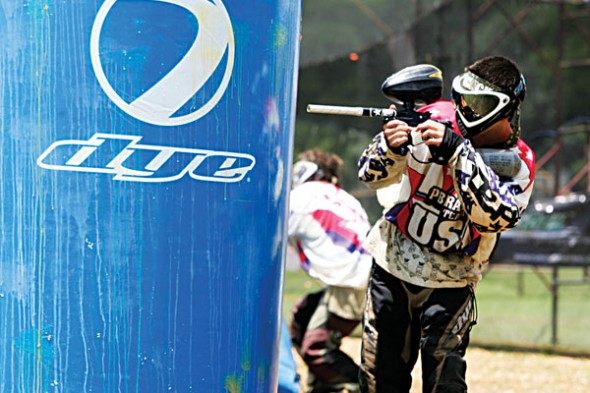 The pic above was snagged of Ryan during one of his matches with Team USA by PBRack while over in the Philippines. He's wearing the one and only Team USA jersey designed exclusively through Nick Hammond Design. Besides looking like an absolute champ while wearing NHD designs proudly, Ryan went on to help Team USA win that tournament in the Philippines by taking home the first place trophy. Seeing as though he's only 18 years old he has definitely got some amazing talent and will be smashing the competition not only in the Pro ranks but also in snowboard competitions. We look forward to helping sponsor Ryan in all of his endeavors this season and in the future. Here's a tid bit that was written about him in the local paper back in Washington:
http://www.sequimgazette.com/sports/article.exm/2011-03-08_right_on_target
Ryan will be rockin' the new NHD Clothing line which should be printed and shipped in the very near future! Feel free to check out his bio on our Team page along with video on our Youtube page of his snowboarding skills. This kid is absolutely going places so watch out, and be sure to check back for more news on NHD Designs and our sponsored team members as the weather gets more and more beautiful.
P.s. A post with our design work for Ambush Paintball should be up shortly! We've hooked them up with a laser engraving design for their entire line of team paintball guns as well as jerseys. If you'd like to hire us for any designs along these lines or even any other project feel free to contact us via the page on this site or by emailing Nick@NickHammondDesign.com for a quote.