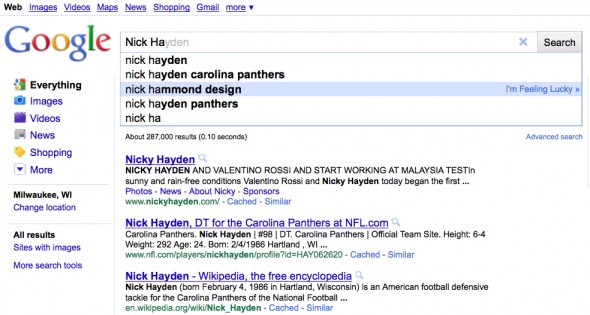 So what we have here folks is some incredibly exciting news, at least for all of us at Nick Hammond Design. After recently going through the new NHD Site and making everything we could search engine friendly through some quick reading on SEO (Search Engine Optimization) we accidentally stumbled on the magnificent pic above!
If you head on over to Google and begind searching for "Nick Ha," from Nick Hammond Design, Google quickly autocorrects and asks you if you would like to search for none other than us 😀
Not only this, but if you look closely you can see that the other autocrrect suggestions include a player from the Carolina Panthers! That, and we also have pics of our designs on Google Images all the way to the 11th page. Moving up in life??? I think so!
______________________________
Be sure to check out our newly added Contests that will be a permanent section of the NHD site for a change to win a FREE Shirt from the new line dropping in about a month.
We are also located on the following sites if you'd like to check out more about our work and what we are involved in:
Enjoy the superbowl! (p.s. Nick Hammond is from Wisconsin 😛 )