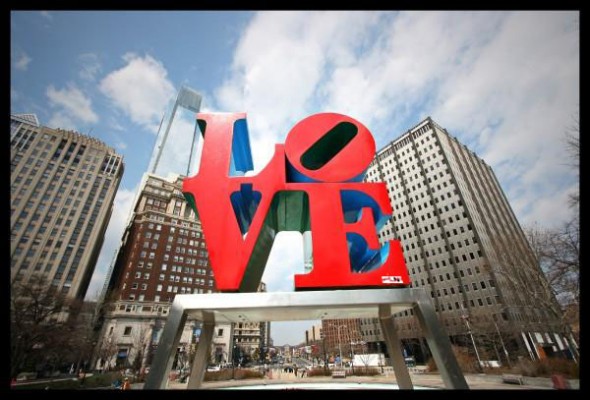 The "What the H!?" stickers have officially been ordered and the campaign has started!
We ordered a few of the stickers to make sure they were up to par and sent them to a few skateboarders around the nation and guess what turned up… One of the skaters snagged a pic of the first ever "What the H!?" sticker tagged on the infamous Love sculpture at the old school skate spot in Philadelphia. Badass to say the least.
What can you do, you ask? Well let us tell you…
You can win a FREE NHD tshirt when the line is release by simply taking pictures of the "What the H!?" stickers wherever you see them. Take a pic of the sticker, post it on any of these news updates, on the facebook, to owner Nick Hammond's email or any other way possible. Once a month I will add all of the names of the people who submitted pics to a drawing to win a FREE NHD tshirt! yes, its that easy. We will even include your beautiful face in a news update on the front page rockin your new swag.
You can also be entered into this contest once a month if you head on over to our facebook page, like it, and suggest it to all of your friends. Post a screenshot proving that you completed the task and you can also be entered into the monthly drawing.
But what if I do both you ask? Well… if you both post a pic of a "What the H!?" sticker you stumbled on AND suggest the facebook page to all of your friends you can be entered into the drawing 3 times for that month. Thats 3x the chance that you could win a FREE NHD tshirt!
If you would like stickers please send a self-addressed AND stamped envelope to owner Nick Hammond at the following address:
3400 N. Maryland Ave
Box #s2447
Milwaukee, WI 53211
Stickers will be distributed on a first come, first serve basis so once they are gone you will have to wait until more are printed to get your hands on them again.
_________________________________
In order to keep up with all of our updates coming in the future we added a new feature to the site as well:
If you click on the "Subscribe" button at the top of the site you will instantly be added to the subscription list for either our RSS feed (for you blogger/techies out there) or our Email updates. Just choose which option is right for you by clicking on the dropdown menu after clicking the Subscribe button at the top of the site.
Now lets see some pics of some stickers!